Effervescent tablets are very common in life, such as vitamin C effervescent tablets are mostly used to enhance human immunity. The effervescent tube is a special packaging for effervescent tablets. To meet the storage requirements of the tablets, the effervescent tube should be designed with full consideration of the characteristics of the dosage form, packaging capacity, and consumer needs.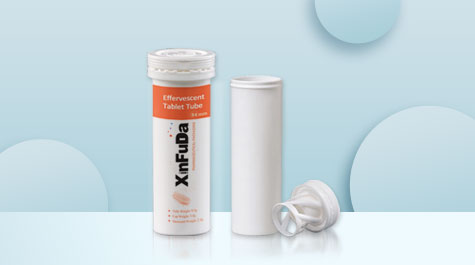 84mm*29mm effervescent tablet tube

The bottle body and desiccant cap material of effervescent tablets contain a certain amount of moisture. In addition to the penetration of external water molecules during transportation and storage after sealing, the tablets are easily decomposed by moisture, which will cause the medicine to deteriorate. To ensure that the tablet is in a good packaging environment, the effervescent tube should be designed with moisture-proof function as the focus of research.
Effervescent tablets are a kind of ready-to-use solid beverages, and many people carry them with them. Therefore, the effervescent tube should be designed with the capacity of the package in mind. It should be based on the diameter and thickness of the tablet dosage form, combined with the fact that consumers often carry it The characteristics of the bottle determine the capacity of the bottle to better meet the market demand.
On the other hand, due to the characteristics of the dosage form, the hardness of the effervescent tablet should not be too large, and the diameter of the tablet is generally larger, which increases the difficulty of compaction. It is easy to break the effervescent tablet due to collision during logistics and handling. In order to buffer the pressure of the bottle itself and fix the tablets, a soft coil spring is usually placed on the cap of the effervescent tube to absorb shock and avoid shattering.
In fact, no matter how the pharmaceutical packaging is designed, it is inseparable from a fundamental purpose to meet the special properties of drugs and consumer demand. Of course, with the continuous changes in market demand, the effervescent tube will also be upgraded in design.