The main factors affecting the drying efficiency of test strip vial are the following factors: drying degree of desiccant itself; production environment; logistics packaging; desiccant cap sealing.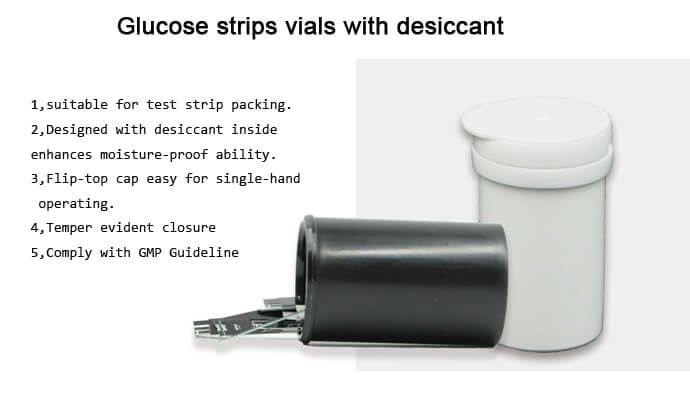 1. The desiccant is mainly composed mainly of silica gel and molecular sieve mixture. The manufacturer of the qualified and qualified desiccant is selected, and the effectiveness of the desiccant itself is almost the same.
2, the production environment is mainly in line with the pharmaceutical packaging material supplier's purification workshop, A-class is a one-way flow, does not consider the number of air changes; B-class air change times greater than 50 times; C-class air change times greater than 25 times; D-level change The number of gas is greater than 15 times.
Purification workshop pressure difference of the purification plant: the average wind speed of the main workshop to adjacent rooms ≥5Pa: 10, 100 0.3-0.5m/s; temperature winter >16°C; summer <26°C; fluctuation ±2°C.
The humidity is 45-65%; the humidity of the GMP powder workshop is about 50%; the humidity in the electronic workshop is slightly higher to avoid static electricity. The noise is ≤65dB(A); the fresh air replenishment is 10%-30% of the total air supply; the illumination is 300LX. The clean room positive pressure airflow (+23-25Pa) prevents the entry of external pollution. In general, the D grade is mainly for the production environment of the medicine packaging material, and the rest is for the medicine type.
3. Logistics pharmaceutical packaging mainly refers to the use of double-layer packaging in the transportation process, the inner packaging is made of aluminum foil bag, and the outer packaging is made of plastic bag.
4. Desiccant cap sealing depends mainly on the precision of the mold and the control of various production links. The principle is to place the desiccant inside the cap and seal the bottle through the cap. The package has strict requirements on sealing properties, water molecule control, moisture resistance, water vapor transmission rate, and moisture content of the desiccant. The test strip vial has achieved the purpose of absorbing water molecules by placing the desiccant in the cap, which requires the material to have good barrier properties to water molecules.