Details determine success or failure. The homogeneity of my country's pharmaceutical market is serious. Pharmaceutical packaging has become a powerful breakthrough for pharmaceutical companies to break development bottlenecks and improve market competitiveness. At present, many prescription drugs for cardiovascular and chronic diseases in my country are packaged with child protection function (child-proof bottle opening). In a sense, the choice of this kind of packaging by pharmaceutical companies can not only effectively prevent children from accidentally ingesting medicines, but also a manifestation of corporate social responsibility, which is more conducive to the brand image of pharmaceutical companies.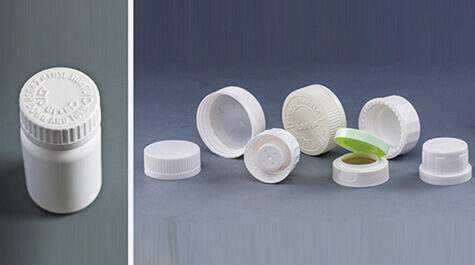 child proof bottle with various caps
The design principle of the child-proof bottle is mainly reflected in the bottle cap. The bottle cap adopts a double-layer structure design inside and outside, which is connected by a card slot. Consumers need to open the package according to the prompt of "press down and then rotate" on the surface of the bottle cap. The opening method involves applying force in two directions. Adults can easily open it, but children often find it difficult to open the package in a short period of time, which can effectively reduce the risk of children ingesting drugs.
The anti-child opening bottle originated in the United States and was enforced by legislation in 1970, and then gradually expanded to some developed countries such as Europe and Australia. Europe has always been the vane in the field of pharmaceutical packaging legislation, and my country's pharmaceutical safety packaging legislation is also ready to emerge. At present, many domestic pharmaceutical companies have realized the importance of child safety packaging. Some drugs such as mental, chronic disease and cardiovascular drugs have begun to gradually use this kind of child-proof bottle to set an example for the industry. In the future, we look forward to More pharmaceutical companies have joined the ranks, applying child-proof bottles to more drugs, creating a better environment for child safety.