Effervescent tablet tube generally mainly applies in the effervescent piece's packing to rise to moistureproof with the function that prevent damage, effervescent piece early when packing pays most attention to the dry sex of sealing of packing. Another design of the effervescent bottle is the spiral spring on the platform, which prevents the effervescent from being damaged in transit.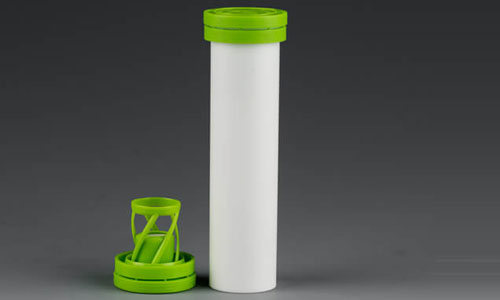 plastic tube for effervescent tablets
Notes for preparation and packaging of effervescent tablets:
During granulation, acid and alkali should not be prepared together with the main drug, because the general acid or alkali will affect the stability of the drug, which may lead to unqualified degradation products.

Disintegration degree is not more than 5 minutes according to the pharmacopoeia, which is relatively easy to achieve. Our internal control standard is 90 seconds. Granulation is made with a low viscosity binder and a high concentration of ethanol (such as anhydrous ethanol), so that it dries quickly, the particles are loose and disintegrate easily. But pay attention to the crispness, the pharmacopoeia does not exceed 1%. (however, special applications for effervescent tablets seem to be allowed, with appropriate relaxation.) Finally, acid and base are added as excipients.

pay attention to the prepared particles do not store too long, and control the humidity.


pressing also need to control the humidity, in order to prevent water absorption.


As for the packaging, you can choose the double aluminum packaging that is impervious to water and oxygen, or the packaging of high-density polyethylene bottle or PP plastic bottle to ensure its stability.