Blood glucose test strips are disposable consumables used in conjunction with blood glucose meters, and are mainly used for daily blood glucose testing of diabetics. The correct use method is the key to ensure the accuracy of the test, how to use this consumable, and what are the characteristics of the test paper container as its storage container?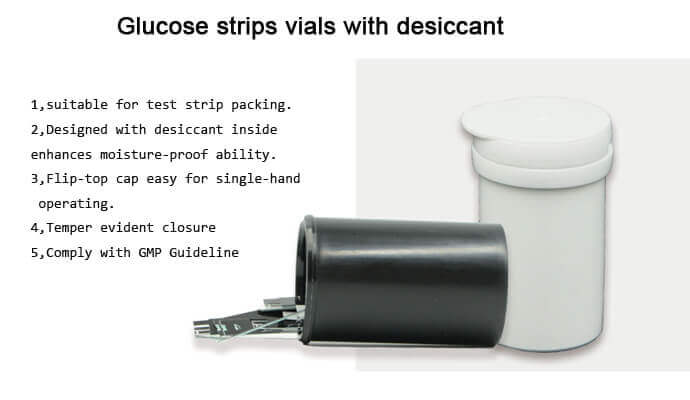 There are two ways to use blood glucose test strips to detect blood sugar. The first method is to drop fresh fingertip capillary blood on the test strip, and after one minute, use water flow to buffer the clean blood and the standard comparison plate, and observe the glucose oxidase and The color of fingertip blood reaction. The other is to use the blood glucose test paper with the blood glucose meter to observe whether the blood glucose concentration is within the normal range. It should be noted that checking the blood sugar level on an empty stomach after getting up in the morning can reflect the real blood sugar level.
Blood glucose test strips contain reagents such as glucose oxidase, which are particularly sensitive to water molecules, so the test strips have strict requirements on the moisture resistance of the pharmaceutical packaging. The blood glucose test paper barrel is a straight barrel packaging container, which uses a moisture-proof and dry integrated cover. While ensuring the sealing of the package, the desiccant on the cover absorbs the moisture inside the package to ensure the stability of the test paper storage.
Blood glucose test strips are required to be placed in a dry environment, and the suitable temperature is between 10°C and 30°C. If the indoor temperature is too high in summer, you can put the test strips into a plastic bag, put a desiccant at the same time, and put them in the refrigerator for refrigeration. After taking it out of the refrigerator before each test, wait for the test paper barrel to return to room temperature, and then open the cover to take the test paper for testing.