The test strip vial is a special packaging for blood sugar test strips or urine sugar test strips. Its packaging form is similar to an effervescent tube. The difference is that the lid of the test strip packaging does not have a coil spring and is slightly shorter in height. At present, there are two mainstream test strip packaging specifications on the market: 48mm and 63mm.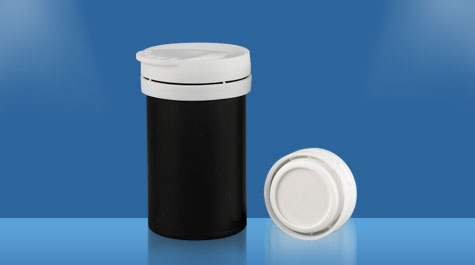 48mm glucose test strip container
The size we are talking about refers to the height of the test paper bucket. According to the two specifications, the applicable test paper types are also different. The 48mm product is mainly used to store blood sugar test strips. The blood sugar test strip area consists of two sheets containing sensitive chemical ingredients. Drop the blood on the test area (the center of the yellow part), put the test strip flat for one minute and then rinse the blood. Compared with the standard colorimetric plate, the chemical reaction that occurs will produce different degrees of color changes according to the glucose content in the blood. Glucose oxidase, peroxidase, on the test strip reacts with glucose in the blood. A color indication of the reaction along with the non-reactive components will be presented in the test area.
The 63mm test strip vial is mainly used for the storage of urine sugar test strips. The urine sugar test strips are longer than the blood sugar test strips, so the height of the packaging is relatively high. Urine sugar test paper is a special test paper used by patients with urine sugar to check their own urine sugar. When this enzyme test paper meets urine, it will appear light blue and light green in turn because the content of glucose in the urine is less to more. , brown or dark brown.
On the whole, 48mm and 63mm are two common specifications of the current test strip vial. The two only differ in height, and the functions are basically the same, and both have very good moisture resistance.