Test strip bottles refer to the packaging used to hold test strips. This package is mainly used for the packaging of test strips and various types of test strips. Most test strip containers are affixed with the corresponding color test results. Because the test strip has high requirements on the moisture-proof and sealing properties of the packaging, the technical requirements can refer to the quality standards for oral solid medicinal low-density polyethylene moisture-proof combined bottle caps.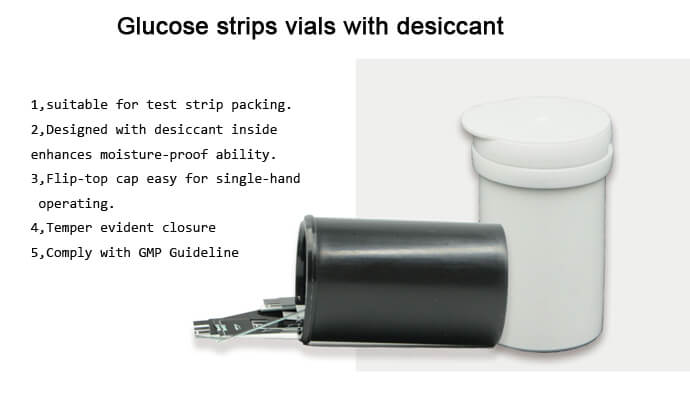 glucose test strip container

The technical requirements and test methods of test paper bottles are as follows (for reference only):
[Appearance] Take an appropriate amount of this product, in a bright place with natural light, look straight. It should have uniform color and no obvious color difference. The surface of the bottle cap should be smooth and flat, without deformation and obvious scratches, and without trachoma, oil, or air bubbles. There is no dirt on the surface of the dialysis cardboard, it should be flat and suitable for the tank; the color of the desiccant is normal and there is no dirt.
[Infrared spectrum]
(1) Infrared spectrum * Take an appropriate amount of the bottle cap and measure it according to the fourth method of infrared spectrometry (YBB00262004-2015) of packaging materials, which should be basically consistent with the control spectrum.
(2) Density is taken from the outer cover of 2.0g and measured according to the density measurement method (YBB00132003-2015).
[Burning residue] Take 2.0g of the outer cover and inspect it according to law (Chinese Pharmacopoeia 2015 General Rule 0841). The remaining residue should not exceed 0.1%. (The burning residue with sunscreen should not exceed 3.0%).
[Water content of desiccant] The water content must not exceed 4.8%.
[Saturated moisture absorption of desiccant] The saturated moisture absorption of silica gel desiccant should not be less than 30%.
[Short-term moisture absorption of desiccant] The short-term moisture absorption of silica gel desiccant should not exceed 3% respectively.
[Drop-resistant performance] Take an appropriate amount of the bottle cap and drop it at a height of 1 meter. The bottle cap must not break and the desiccant must not leak out.
[Moisture content of cardboard] The moisture content must not exceed 6.0%.
[Physical and chemical indicators of cardboard]
Arsenic (as As) Fluorescence inspection Take a cardboard 100cm2, and place the drug-contacting surface under UV light with a wavelength of 365nm and 254nm for inspection. There must be no sheet-like fluorescence.
[Decolorization test] Take 5 paper pieces, add water (60 ° C ± 2 ° C, 2h), 50ml n-hexane (25 ° C ± 2 ° C, 2h), and soak two other batches of the same solvent as blank solution, soak Liquid color must not be darker than blank liquid.
[Exudate test] n-hexane is a blank solution.
Heavy metals Contain no more than one millionth of heavy metals.
Non-volatile matter The difference between the n-hexane non-volatile matter residue and its blank residue should not exceed 200.0 mg.
[Microbial limit] The number of bacteria per bottle cap must not exceed 1000cfu, the number of molds and yeasts must not exceed 100cfu per bottle cap, and Escherichia coli must not be detected per bottle cap.
[Abnormal Toxicity] It should be determined according to law (Chinese Pharmacopoeia 2015 edition General Rule 1141), and it should meet the requirements.