With the continuous improvement of living standards, people's self-care awareness has gradually increased, and the requirements for medicines have become higher and higher. Vitamin C effervescent tablets came into being under such an environment. This medicine has a special composition, so what are its requirements for the effervescent tube?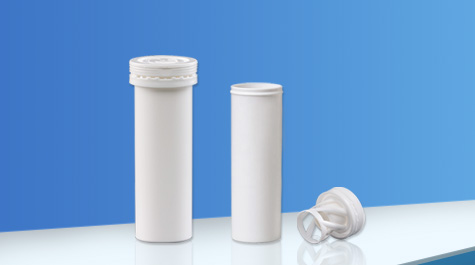 84mm*29mm effervescent tablet tube
Vitamin C effervescent tablets are different from ordinary tablets. They use organic acid and basic carbonate (bicarbonate) salt to react as an effervescent disintegrant. When placed in water, an effervescent reaction occurs, generating and releasing a large amount of carbon dioxide gas. It looks like boiling, hence the name effervescent tablet. The predecessor forms of this drug are foaming soda, effervescent powder, effervescent infusion and external effervescent tablets. Vitamin C effervescent tablets are favored by young people.
The effervescent tube is a special packaging for effervescent tablets. Since the dosage form of vitamin C effervescent tablets is generally larger, the diameter of the effervescent tube is generally based on the diameter of the tablet as a reference. It can be installed and accessed by the patient as needed. On the other hand, it is moisture-proof. Effervescent tablets are easy to decompose when damp. Therefore, desiccant is generally placed inside the effervescent tube. However, due to the special storage method of effervescent tablets, there is no more space inside the tube. After special design , There will be a small medicine compartment on the top of the bottle desiccant cap to store the desiccant and prevent the tablets from getting wet.
At present, the packaging requirements for vitamin C effervescent tablets are mainly reflected in the diameter of the tube body and moisture resistance, but the market demand is constantly changing. The same is true for pharmaceutical packaging. The effervescent tube will also follow the market demand. Changes are constantly updated and iterated.