The instant syringe is mainly composed of a sleeve, a push rod, a piston, a positioning ring and a protective cap. The main production process of the pet feeder is the injection molding process. The characteristics of injection blow molding are: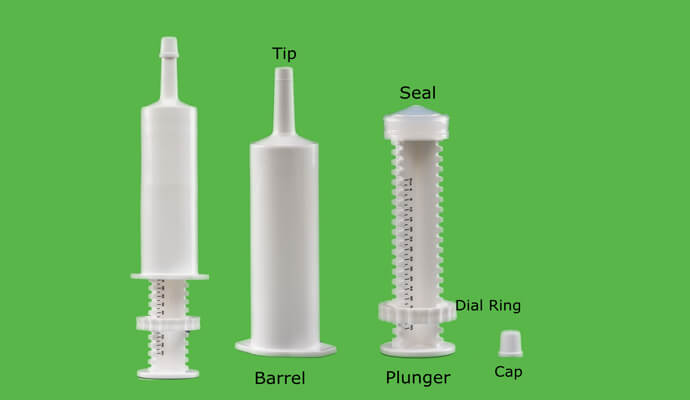 1.The plastic melt is injected into the parison mold, which is subjected to a certain orientation effect in the circumferential direction of the cavity. In addition, the temperature at which the parison is inflated is lower than that of the extrusion blow molding, and the orientation effect by inflation is more The ground is retained, which helps to improve the strength of the plastic bottle and other properties.
2. The plastic syringe size (especially the neck thread size) has high precision, and it is easy to ensure the uniformity of the wall thickness of the bottle according to requirements, and the bottle body has uniform specifications.
3. No joint seam is formed on the surface of the bottle body, no need to be trimmed after molding, generally no corner residue is produced, and the scrap produced by extrusion blow molding is usually 5% to 30%.
4. The gloss of the bottle is high, and the transparency of the bottle formed by the transparent polymer is obvious.
5. The sliding bottom module can be set on the blow mold, so the shape of the bottom of the bottle body is designed to be more flexible.
6. Injection molding requires two kinds of molds, such as parison mold and blow mold, and the mold requirements are high, so the injection blow mold has a higher cost, which is about 2 to 3 times that of extrusion blow molding. Most of the bottles with small volume (usually 10 to 300 mL) are formed by injection blow molding, and the products with complicated shapes cannot be formed, and the energy consumption is obviously high. The injection blow molding method is used to ensure the accuracy of the bottle mouth and the thread size and the dimensional accuracy of the appearance, and the wall thickness of the bottle body is uniform, and is adapted to the requirements of the pharmaceutical packaging.