In the production process of effervescent tubes, the control of various parameters is the key to ensure the quality of the finished product. This effervescent packaging container is produced by an injection molding process, in which back pressure is also one of the main factors affecting its molding.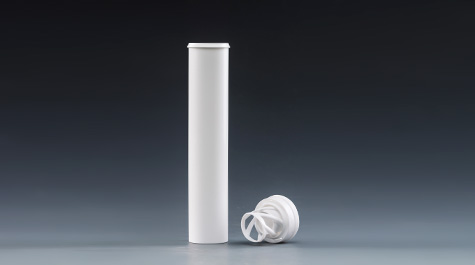 144mm*29mm effervescent tablet tube supplier
Injection back pressure refers to the pressure that the screw needs to overcome when the screw is reversed and withdrawn to store the material. The back pressure has a great influence on the melt temperature. The increase of the back pressure makes the material in the screw groove denser, prolongs the heating process of the material in the screw, and improves the plasticization quality of the effervescent tube. The use of high back pressure is conducive to the dispersion of the pigment and the melting of the plastic, but at the same time, it prolongs the retraction time of the screw, reduces the length of the plastic fiber, and increases the pressure of the injection molding machine. Therefore, the back pressure should be lower, generally not more than the injection molding machine. 20% of the pressure.
Back pressure is required for uniform heat melting, especially where the particles are still not melted by shear heat. Mechanical and appearance uniformity, uniform dispersion of color masterbatch (toner) and filler (glass fiber). The air brought in by the removed material is discharged towards the feed port. A uniform melt temperature gradient axis is produced, especially when the effective screw metering length is shortened. Reduce the fluctuation of residual buffer melt from mold to mold due to air trapping during pressurization.
To sum up, back pressure is also an important factor affecting the forming quality of effervescent tubes, and proper setting of back pressure parameters can ensure the quality of the finished product.