INTRODUCTION
It is the purpose of this chapter to provide standards for plastic materials and components used to package medical articles (pharmaceuticals, biologics, dietary supplements, and devices). Definitions that apply to this chapter are provided in the Preservation, Packaging, Storage, and Labeling section of the General Notices and Requirements. Standards and tests for the functional properties of containers and their components are provided in general chapter Containers—Performance Testing <671>.
In addition to the standards provided herein, the ingredients added to the polymers, and those used in the fabrication of the containers, must conform to the requirements in the applicable sections of the Code of Federal Regulations, Title 21, Indirect Food Additives, or have been evaluated by the FDA and determined to be acceptable substances for the listed use.
Plastic articles are identified and characterized by IR spectroscopy and differential scanning calorimetry. Standards are provided in this chapter for the identification and characterization of the different types of plastic, and the test procedures are provided at the end of the chapter. The degree of testing is based on whether or not the container has direct contact with the drug product, and the risk is based on the route of administration.
Plastics are composed of a mixture of homologous polymers, having a range of molecular weights. Plastics may contain other substances such as residues from the polymerization process, plasticizers, stabilizers, antioxidants, pigments, and lubricants. These materials meet the requirements for food contact as provided in the Code of Federal Regulations, Title 21. Factors such as plastic composition, processing and cleaning procedures, surface treatment, contacting media, inks, adhesives, absorption and permeability of preservatives, and conditions of storage may also affect the suitability of a plastic for a specific use. Extraction tests are designed to characterize the extracted components and identify possible migrants. The degree or extent of testing for extractables of the component is dependent on the intended use and the degree of risk to adversely impact the efficacy of the compendial article (drug, biologic, dietary supplement, or device). Resin-specific extraction tests are provided in this chapter for polyethylene, polypropylene, polypropylene terephthalate, and polypropylene terephthalate G. Test all other plastics as directed under Physicochemical Tests in the section Test Methods. Conduct the Buffering Capacity test only when the containers are intended to hold a liquid product.
Plastic components used for products of high risk, such as those intended for inhalation, parenteral preparation, and ophthalmics are tested using the Biological Tests in the section Test Methods.
Plastic containers intended for packaging products prepared for parenteral use meet the requirements under Biological Tests and Physicochemical Tests in the section Test Methods. Standards are also provided for polyethylene containers used to package dry oral dosage forms that are not meant for constitution into solution.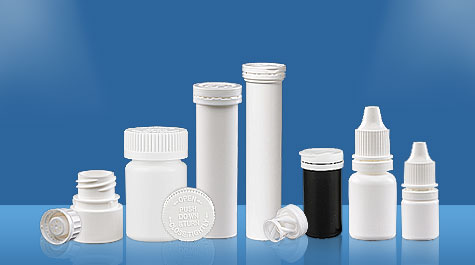 plastic pharmaceutical packaging
Source from USP