Effervescent tablet packaging due to the tablet production process, it is determined that the candy tablet needs a certain moisture resistance. How to solve the problem of effervesccent tablet moisture absorption? In many cases, due to transportation, customer use, packaging materials, raw and auxiliary materials, etc., there are many problems such as moisture absorption and deterioration during the validity period, resulting in customer complaints and dealer returns.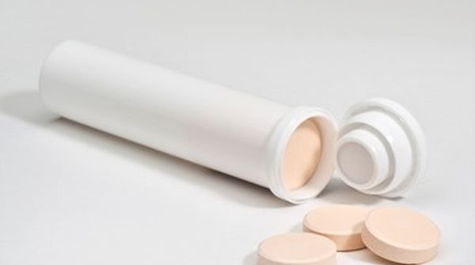 effervescent tablets container

How to avoid these problems in the packaging process, the traditional desiccant tube is made of PVC board and aluminum plastic bag, or a bag desiccant is put in the bottle. The form of PVC board with aluminum plastic bag is not easy to store after opening. It is likely to be deteriorated due to the customer's sealing. The desiccant in the bottle is preferable, but it also has certain disadvantages. The desiccant can be directly pressed into candy tablets. Contact poses a certain amount of danger.
The characteristics of this type of effervescent packaging are mainly reflected on the bottle cap.
1. The bottle cap is provided with an anti-theft ring. The bottle neck is provided with a bottle buckle. The anti-theft ring will be blocked when the moisture-proof cap is closed. Automatic fall-off for anti-theft effect.
2. For the tablet compression of larger tablets, there is a coil spring on the bottle cap, which can fix the tablet to prevent bumps and shakes during transportation and breakage.
3. There is a small medicine compartment on the lid, which contains desiccant. The separation of the desiccant from the medicine ensures the safety of the medicine, and also prevents the candy tablet from getting wet, which affects the taste and the period of validity.